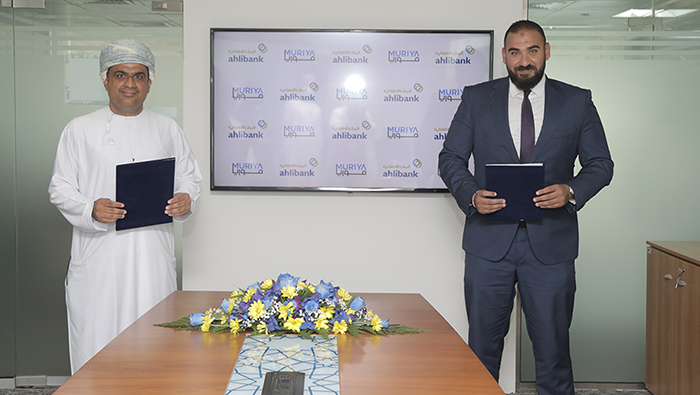 ahlibank signs agreement with Muriya to provide attractive mortgages
Muscat: Committed to meeting the needs and aspirations of its customers, ahlibank has announced the signing of a cooperation agreement with Muriya.
The MoU aims to provide financial solutions to clients wishing to own property in the company's Integrated Resort Resorts (ITCs) – Jebel Sifah or Hawana Salalah. The agreement is a strategic step in the bank's long-term roadmap to continue to provide advanced and innovative banking solutions to Oman's evolving customer base.
The agreement was signed by Muneer Al Balushi, AGM- Head of Retail Distribution at ahlibank; and Mohamed Abdelaziz, financial director of Muriya. The event took place at ahlibank headquarters, in the presence of selected officials from both sides.
On the sidelines of the signing ceremony, Muneer Al Balushi said, "The signing of this memorandum is part of our strategy to serve our customers as a top priority. We are constantly seeking to create banking solutions adapted to the evolution of our clients' lifestyles and their ambitions, by providing them with financial support in record time and at competitive prices.
"Strategic and futuristic collaborations like the one with Muriya do not strengthen our clients' ability to own their personal assets and secure a better future for themselves and their families, but also support national growth by giving impetus to the real estate industry. . business of this intermediation and this partnership, we are able to contribute to the socio-economic objectives of the Sultanate.
Under the agreement, ahlibank will provide a mortgage loan before issuing the property, at attractive interest rates starting at 4.5% per annum. In addition, Al Nukhba premium account holders of the bank will benefit from prompt services to avail the loan facility, having direct access to the bank's sales team as well as to Muriya's representatives by phone, this which will help to reduce effort and time, ensuring fast transactions.
For his part, Mohamed Abdelaziz said: "We are delighted to cooperate with ahlibank, and we strongly believe that this agreement will attract more satisfied owners to the destinations of Muriya, Jebel Sifah and Hawana Salalah and its real estate projects. Both destinations offer a unique, modern living experience, characterized by their contemporary design and advanced service facilities, as well as their strategic locations in Oman. The agreement will make it easier for clients to apply for a mortgage with ahlibank and their will give a lifetime opportunity to own a property in Jebel Sifah or Hawana Salalah.